Dishes With Whipped Cream And Nitrous Oxide
The Biggest Cream Charger Knowledge Base Online
Three Savory Dishes To Try With Whipped Cream Chargers
Whipped cream siphons and N2O cream chargers are wonderful kitchen tools. They can easily be washed in the dishwasher, has various components that are easily identifiable and available in the market, be charged with nitrous oxide whipped cream chargers quite conveniently, and are simple to work with.
Most people think that whipped cream dispensers can only be used for just one purpose – to prepare the whipped cream. However, this is far from reality as they can be used, not just for making desserts, but also to prepare flavourful drinks and savory dishes. Here we discuss three savory dishes that you can make at home using a whipped cream siphon and cream whip chargers.
Recipes
Prawn Cocktail
Chicken Liver Pate
Pan-Fried Trout With Parsley Foam
Prawn Cocktail
You can give this classic dish a modern twist with a light, airy dressing. The best way to serve it is in chilled cocktail glasses with some cooked shrimps, hanging on the edge of the glass. The recipe is apt for four persons.
List of ingredients:
1 pound shelled, beheaded, and cooked prawns
200 grams of baby lettuce leaves
1 sliced lemon
Dressing:
Half a cup of mayonnaise
2 tablespoons of Greek yogurt
3 tablespoons of tomato ketchup
1 teaspoon of creamed horseradish
1 teaspoon of Worcestershire sauce
Cayenne pepper
Lime juice
Salt
Procedure:
Mix all the ingredients to make the sauce and sieve it into a whipped cream siphon. Charge with one N2O whipped cream charger and shake intensely. Remove the whip cream charger and place the cap firmly. Refrigerate it for 15 minutes.
In the meantime, chop the bulk of your shrimps, leaving just 4-5 for the presentation. With 4 baby lettuces leaves, cover the side and bottom of your cocktail glasses. Chop some lettuce leaves and place them inside a bowl with the shrimp. Add to it almost half of the dressing, and toss. Chill the mix for 10 minutes.
For serving, put a quarter of the lettuce-prawn mix on the lettuce leaves inside the cocktail glasses. Using a thin piping nozzle, cover the prawns a bit with some dressing and then, put one cooked shrimp and a slice of lemon over the edge of your cocktail glass to complete the presentation.
Chicken Liver Pate
This recipe is unbelievably simple (of course, with N2O whipped cream chargers) and it is a great savory food item for people, who want to relish something delectable, but don't have much time to spend in the kitchen. It takes less than half an hour to get ready and serves around 8-10 persons over graham crackers. You can also refrigerate it for up to 4 days without having it degraded. The nitrous oxide gas from the nitrous oxide cream charger actually extends its life, so charge it before storing it.
List of ingredients:
250 grams of washed and cleaned chicken liver
2 tablespoons of butter
1 teaspoon of chopped parsley
Half a teaspoon of pepper
Salt
2 minced garlic cloves
100 ml of double cream
2-3 sleeves of graham crackers or toast triangles
Red currant jelly (optional topping)
Drained capers
Procedure:
Clean the whole chicken livers and keep them aside. Heat a frying pan with a flat surface over medium flame and add the livers. Place them to form a single layer, and let one side of the livers cook without disturbing them for roughly 5 minutes. Flip the livers and let their other side cook without disturbing them for 4-5 minutes. Once both sides are cooked, add some minced garlic to them and stir well to allow the garlic to cook slightly.
In the meantime, add pepper, parsley, and double cream into a blender. Further, add the chicken livers into the blender, with butter and garlic, and close the blender's lid. Blend the contents over high speed for around 2-3 minutes, or until the perfect blend is achieved. Sieve this mix into a whipped cream siphon, charge it with one N20 cream charger and shake vigorously. Remove the whipped cream charger and cap the dispenser tightly.
Using a thin nozzle, pipe out your preferred amount of the final mix onto a toast triangle, a piece of graham cracker, or a slice of crispy pita bread. Chicken liver pâté made this way can be used immediately or can be stored, making it a great appetizer for time-poor people. If you want to make everything more flavorsome, you can also serve the canapé with a single caper or redcurrant jelly on top of it.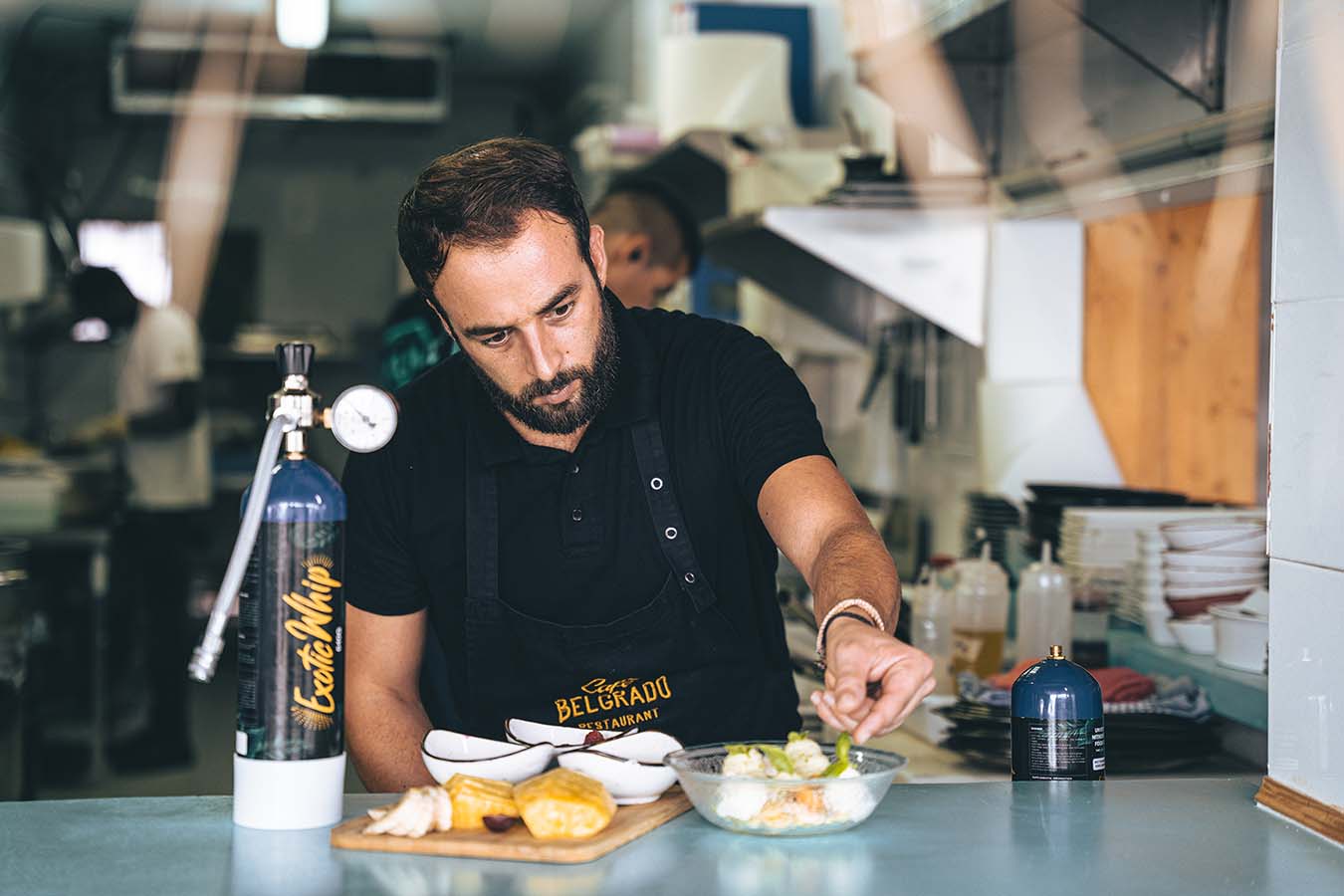 Pan-Fried Trout with Parsley Foam
If you want to try making something exotic without thinking too much, this recipe is just for you! For this dish, the best you can do is to have the freshest trout, fry it in the pan instantly and serve with parsley and cream. You can add some salad to this dish to make it tastier and more nutritious.
List of ingredients:
4 cleaned trout
Two halves of a lemon
Kosher salt
Pepper
2 tablespoons of butter
Parsley Foam:
100 grams of parsley
25 grams of chopped onions
100 ml of chicken stock
Pepper
1 tablespoon of butter
150 ml of heavy cream
Salt
Procedure:
First of all, prepare parsley foam. Heat butter on medium-low heat and fry onions in it. Once the onions turn aromatic, add parsley to them and mix both immediately. Remove the onion-parsley mix from the heat and let it cool for some time. Make a lump-free puree out of heavy cream, chicken stock, parsley-onion mixture, pepper, and salt in a food processor. Sieve the puree and put it in a whipped cream siphon. Add one 640g N20 cream charger and shake the mix thoroughly. Remove the charger and cap it tightly. This foam can be stored in the refrigerator for up to 2 days without getting degraded.
Clean the trout fish. Remove the gills, head, and bloodline from its backbone. Next, wash and pat dry the fish. Make a few incisions on both sides to let the flavors penetrate the fish easily. Rub one half of a lemon, dipped in a salt-pepper mix, all over the fish. Heat a pan on medium flame and add some butter. Carefully place the fish over the butter in the pan, and cook until the fish turns light golden on both sides (each side takes up to 6 minutes to become golden brown). Serve the fish with some parsley foam on top. The frothy foam will release bubbles if it gets warm again; so, only add the cream before serving.
Note: If you are planning to buy a cream charger in Ireland, Dublin, always order from a reputable online retailer. Buying cream chargers in bulk from established online sellers not only allows you to save money but also gives you the assurance that your product meets all the quality and safety standards.